Misfit Toys Photos
1985 & 1986 For 1987 Click <HERE> To Return to Home Page Click <Here>
First Photos of Misfit Toys July 1985 Photographed at Rockville Civic Center, Rockville Maryland
Photos below were taken at the first Paying gig 715 Club, Alexanderia Virginia August 31, 1985
Photos were captured on a small Kodak 110 Camera and Show Terri, Dennis, Elizabeth, Ed, and Paul.
Photos taken at different times but mostly in January 1986 for promotional Flyers, Posters and ads
Mike did not officially join us as drummer until May but joined us at shows as our sound engineer.
Elizabeth Dennis Terri Ed head Mike
The Misfit Toys first studio session was in the Fall of 1985 when we recorded our original material on 8-Track. All of the songs would be re-recorded later with new drummers and with
Elizabeth playing keyboards and percussion. Our first session was naturally enough a test of nerves. Our studio engineer Chris Biando was very helpful and politely made suggestions to assist us.
Black Pond Studios in Rockville, Maryland would become our only studio for years to come and saw our return many times to record and to mix.
Ed through the booth Glass Chris Biando the Engineer at the board Dennis in the main room
Dennis and Terri April 1986 Terri front, Dennis on Keys Drummer Curtis*, Elizabeth, Dennis and Terri
* Curtis has the dubious distinction of being the drummer who left a show to keep a date with a high school girl.
Even leaving his entire drum kit behind. Fortunately Mike was engineering the show and accepted our invitation to
Join us on stage to finish the show. A month later Curtis was history and Mike became our permanent Drummer.
Our First original song "Promise Me" written by Ed and Elizabeth in July 1985.
Recorded in 8 tracks in October and again in 1986 in 16 track with Mike on Drums
Dennis on guitar, Elizabeth vocals and Ed on Bass At Black Pond Studios Click here !
Curtis holding Chimes for Elizabeth at the studio in April 1986. Dennis in Guitar Booth Elizabeth at Studio Door Dennis recording
Dennis Chris and Elizabeth Mixing/mastering soundboard Booth
I have had a passion for photography since I was very young so when it came to publicity photos of the band I couldn't let anyone
else take charge. Naturally I couldn't take photos of the Misfit Toys while performing so other sources had to be relied upon.
I often saw camera flashes while on stage and have no idea who was taking photos so I have no copies of any fan photos.
Elizabeth took charge of composing our ads and posters for upcoming shows. We always advertised in print in addition to what
A club did and would make the rounds to record stores, head shops and hip clothing stores with eye catching flyers. Below are a few.
1986 1986 1987 June 1986 1988
Press Kits and Promotional Photos are a necessity for any band. When you are led by a woman you are prepared for her hair, makeup and
Attire to constantly change with her moods. I was more than happy to attempt to keep pace with Elizabeth's many changes. In 1985 her hair was
Short and an orange-ish color of blonde. By the year's end it was bleached blonde and by April it had been stylied in an Art Decco influenced
Cut. As it grew out she teased it and by 1987 her hair was raven's wing black. Sometimes it was teased out and other times more controlled.
No matter the color or style she never failed to turn heads. Dennis' hair style too was subject to constant change as were all of the musicans
we were fans of at the time. Mike's hair could sometimes resemble the times but employment in an often intollerant job market meant his
Hair was usually dictated by his current job more than parents. Ed's hair was a hopeless case of premature recession and balding so there was little
he could do until finally he let what there was of it to grow long to his shoulders. The entire band was watchful of British music and fashions
and never appeared on stage in regular 'street clothes'. To my knowledge neither Dennis or Elizabeth ever appeared on stage in the same outfit twice.
As manager I determined that four faces were somewhat difficult for fans to remember and so decided that publicity should focus primarily upon
Elizabeth as our 'front man'. Even without her stage makeup or attire she was frequently recognized and even flattered when asked for an autograph by
shoppers at a mall where she was shopping along with her husband and young son. Complete stangers recognized the band's talent and potential for
real success. I have learned that 30 years later people still trade recordings of the band being interviewed and playing studio recordings on air.
A lot of people have jobs that do not allow them to go see bands during the week and stay up late, especially if the enjoy drinking while seeing bands. Clubs like to book the best bands to draw crowds on the week nigts when things are slower. A good location is usually enough to fill a club on the average weekend. Once we proved ourselves we were usually booked on the dog nights. I saved a lot of small mementos from our eaerly years and here belo I present a few pages of newspaper clippings of the clubs where we were booked. You can generally tell what the club thought of us by the day of the week when we were engaged. It took a long time before i learned that a band can not rely upon a club to advertise or promote a show. The band always has to spend their money to get the word out wheere and when they will be performing. This also has a promotional advantage in that people into live music continually see the band's name and photo in print. It was rare that we ever cold called a club or spoke with someone into live music who had never heard of us.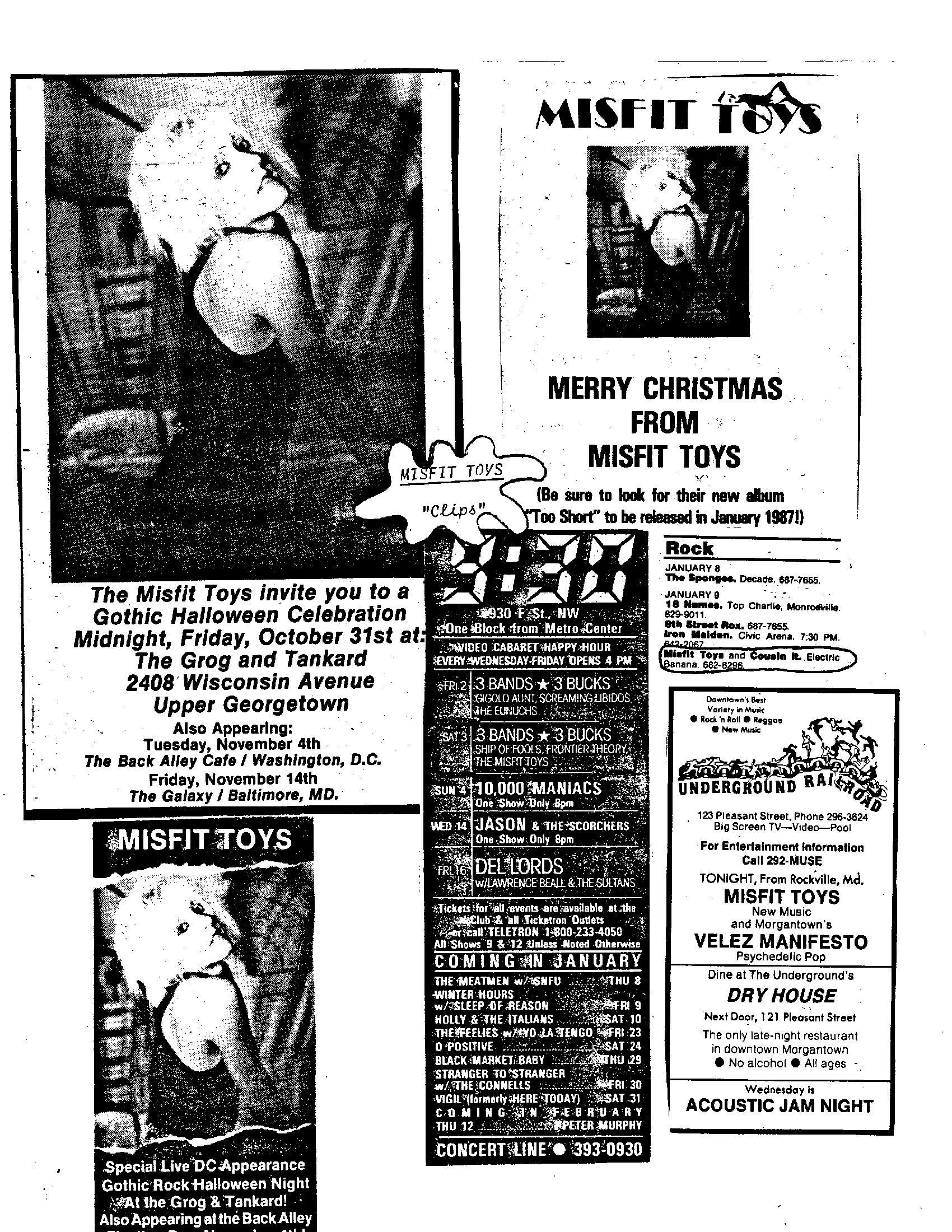 1987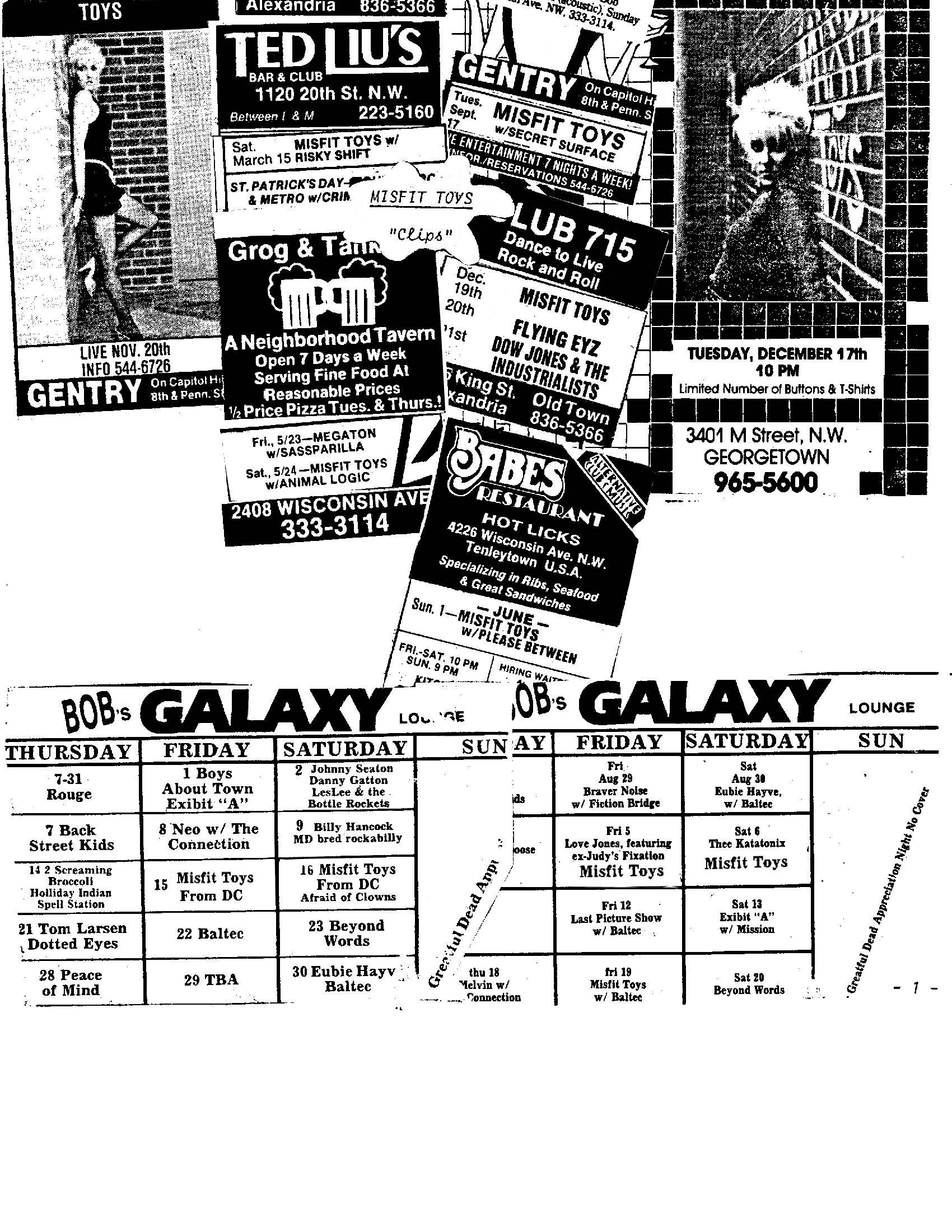 1986
Club Revival in Philly 1987
The following are a few outtakes from several publicity photo shoots in 1986
For 'History in Photos 1987" click HERE