The Misfit Toys© Merchandise
All Items Available for Shipping World Wide MC
To purchase any item or For More Information Contact
Ed Fusco C/O Email: Info@TheMisfit-Toys.com for Shipping Costs
or Moonraiser Productions
P.O. Box 236741
Cocoa, Fl. 32926
www.FaceBook.com The Original Misfit Toys
We have available a limited amount of
The Misfit Toys 12" Classic EP
Featuring an extended mix of
"Tell Me" backed with "The Ordinary"
This is the original promotional pressing and is marked "For Promotional use only" Still sealed. This is the vinyl record that garnered airplay and club/dance floor play across the U.S. and gave the band name recognition where they might have gone unknown otherwise.
In original celophane and in mint condition from a sealed case. $10.00 each while they last. Postage on each item featured here varies by location. There are no hidden "handling" fees. Records are shipped in actual phonograph album cardboard containers.
Legal Disclaimer: This band named "Misfit Toys" is trademarked and the legal posession of Ed Fusco, having registering
the name in the U.S. Copyright office. Prior to that the name of the band belongs to Ed and Elizabeth Fusco
having searched for its use prior to adopting it for live performances in August 1985 and in Print in 1985
Furthermore the Misfit Toys has had several releases on Vinyl records, Stereo Cassettes and digital files for streaming.
The band and said members are4 recognized nationwide in association with the service Misfit Toys -band.
Anyone using the Name Misfit Toys to generate income is in violation of Federal Law.
_______________________________________________________________________
The New Misfit Toys Tee Shirts are available in Small, Medium, Large and Extra Large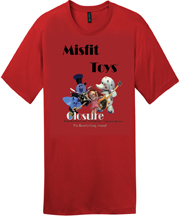 These are high quality digitally printed by a professional graphics
company in Florida. Shirts ate Gildan 100% Heavy Cotton. They are made to hold the image and not fade for many years to come. Just the feel will tell you this shirt is going to last! Now for only $20.00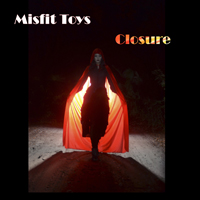 The album 'Closure " has been released on CD to coincide with it's release to streaming services. We have
a small number of the CDs in a special edition presentation box. This beautiful 12 by 12 inch box features the CD
cover photo on the box lid, the corresponding wall poster, press kit, band stickers and more. This box is in limited supply and
once they are gone they are gone. These are highly collectible and will also be included as a Thank You when multiple
Tee Shirts are purchased at one time.
The regular compact Disc in the printed jewel case is $10.00 + Postage
For the special edition presentation box only $ 15.00 + Postage
Please send your inquiry to ascertain that they have not all been sold.
After a night of clubbing most everyone loves to wake up ( or try to ) in a good cup of coffee. These are not quite large enough to curl up inside of but it well made with a thick ceramic material. The cup is made with a photo of the new album '' Closure'' on one side and the names of the band members on the other.
Like the tee shirts, these mugs are red but the red continues across the inside in a large attractive band. The mugs are microwave safe and easy to clean. Shipped World Wide!
If you can't get enough of The Misfit Toys you can start the day with your favorite hot beverage in an official Misfit Toys Coffee mug. High quality mug featuring the 'Closure" album graphic on one side and the names of the band on the other. Currently at the low, low price of only $10.00
Brand New Item: Music Store 11 by 17 Inch CD Cover Promotional Poster!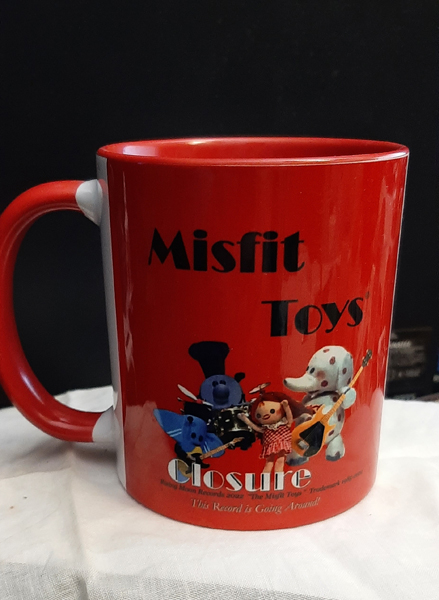 This is an 11 by 17 inch poster of the album cover for only $4.00 plus postage